1.5ml Variety of flavors 3% nicotine vape pod with large vape smog
Brand freeshark
Product origin china
Delivery time 7-20 days
Supply capacity according quantity
Replaceable vape pod with environmentally friendly materials offer 10 different flavor options and support customization of nicotine content. The excellent atomizer solution is the best in oil spill, we believe it is clean and neat that you have never experienced.
1.5ml Variety of flavors 3% nicotine vape pod with large vape smog
freeshark vape pod details


Pod material

ABS PC Silicone

favors

10 more /include fruit & drink
Nicotine content
3% (support custom design 5%)
Package size
35*65*15(mm)
Number of cartridges in the box
3
Oil composition
PG/VG/Vegetable glycerin/Nic
Coil
Ceramic Coil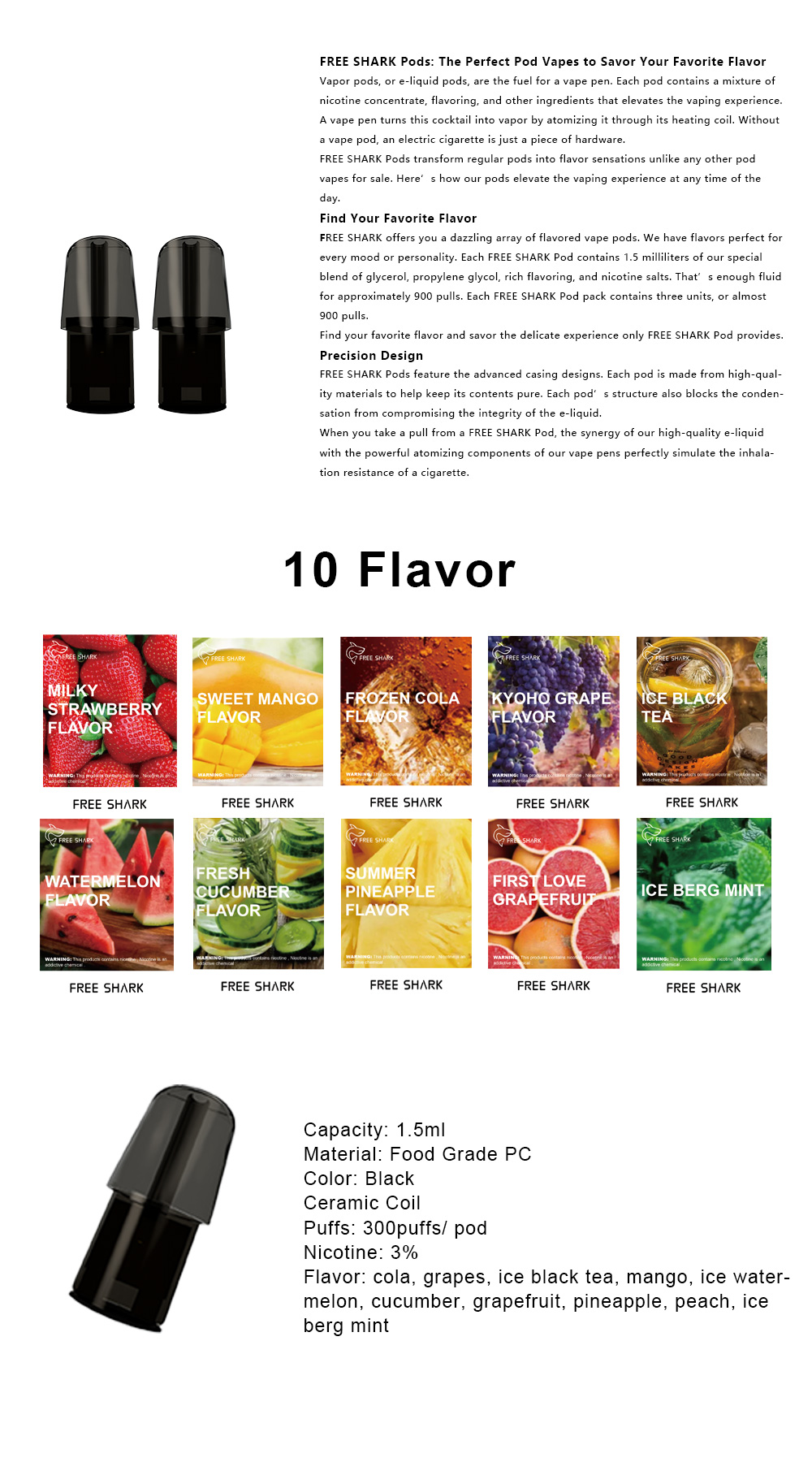 "free shark free moment"
If you need more product information or have any questions, please feel free to contact us, our account manager will always be online and reply to the message.
Shenzhen Wireless Cloud Image Electronics Co., Ltd was founded in 2013 with the goal of combining technological innovation, leading designs and reliable quality to create popular Vape / e-cigarette in the world.
SZWXYT currently designs and manufactures internationally recognized Vape / e-cigarette brand, Free Shark. These great products and services have made Free Shark globally famous.
SZWXYT is growing fast, listens to our customers, and we endeavor to bring customers the cutting - edge products. Welcome to visit our factory In order to ensure that the quality of our company and products are one of lead, we strictly adhere to the following certifications: ISO 9001, CE, FCC and RoHS.